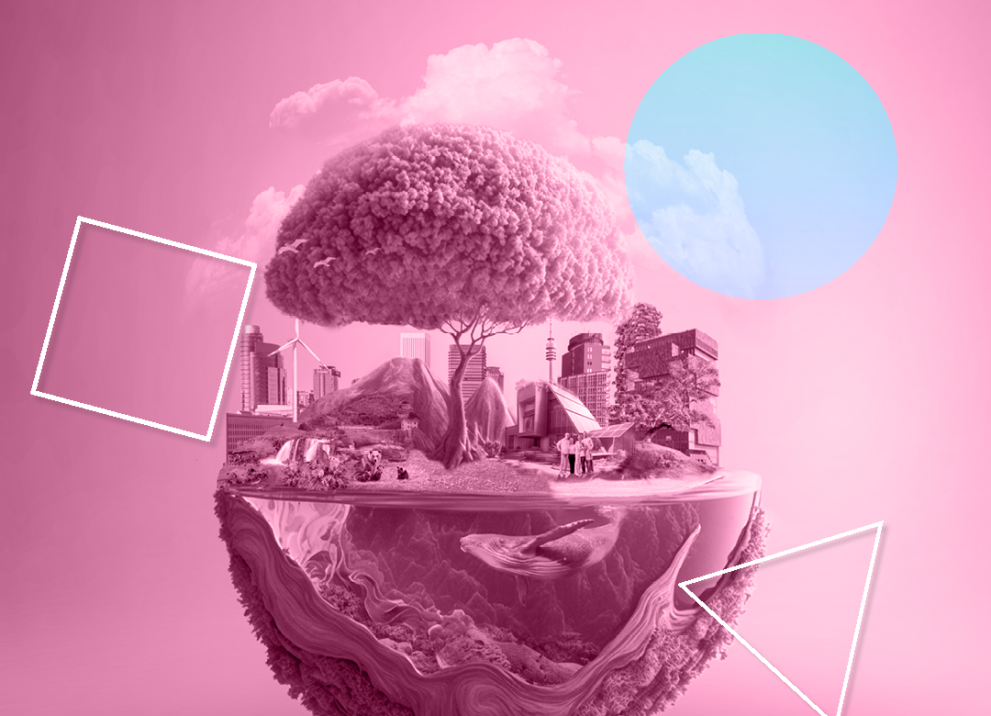 As the renowned physicist Niels Bohr once said "prediction is very difficult, especially if it's about the future." Foresight, however does not aim to predict the future. Instead, it empowers us to imagine multiple future scenarios – in this case of a sustainable EU in 2050. By exploring different futures and the paths to achieve them, we can identify the key, strategic areas that demand our immediate attention in order to achieve our climate neutrality goals.
   Communication - 2023 Strategic Foresight Report
So, how did we accomplish this feat?  
As was the case in previous years, the EU Policy Lab embarked on an inclusive and participatory process to support the European Commission's 2023 Annual Strategic Foresight Report. Its overarching aim was to provide tangible answers to the question:  
"What strategic decisions need to be made in the next decades to ensure a socially and economically sustainable EU with a stronger role in the world?"
Our journey began in September 2022 with the creation of four distinct scenarios, each describing a potential version of a climate-neutral EU by 2050, operating within the planetary boundaries. The EU Policy Lab team crafted these four scenarios by building upon previous works, such as the 2015 JRC scenarios on paths towards a sustainable EU economy and the 2022 EEA imaginaries on a sustainable Europe which resulted into four potential versions of a climate-neutral EU in 2050. Let's have a closer look at these scenarios: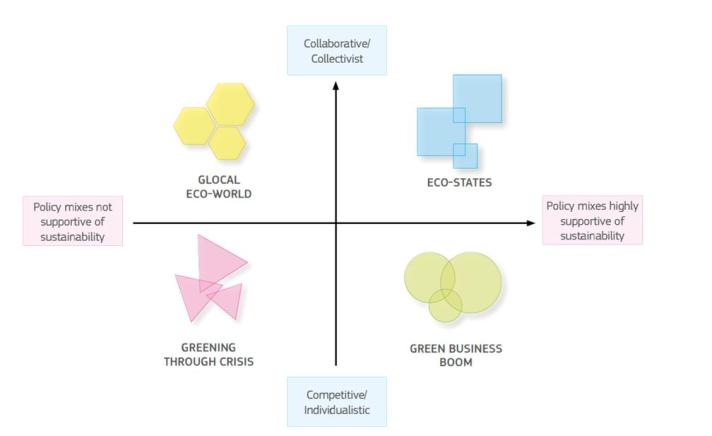 Eco-states, where change is driven by strong state intervention, with a focus on sustainability, social and economic policies enforced through tight regulation and ample social services.
The Greening through Crisis scenario presents a world grappling with ongoing, permanent crises, where the EU's primary objective revolves around mitigating and managing climate change risks within a deteriorating geopolitical reality.
The Green Business scenario describes a society where the private sector's individualist, entrepreneurial spirit spearheads sustainability transition efforts through technological innovation, in which the state assumes a guiding, incentivising role.  
The Glocal Eco-world scenario envisions a society driven by citizens taking matters into their own hands, striving for an egalitarian society centred on wellbeing and sufficiency. This vision emphasises local solutions, solidarity, and direct democracy as fundamental principles.
Based on the assumption that the EU can operate within planetary boundaries by 2050, each scenario illustrates different social and economic conditions, with their different trade-offs.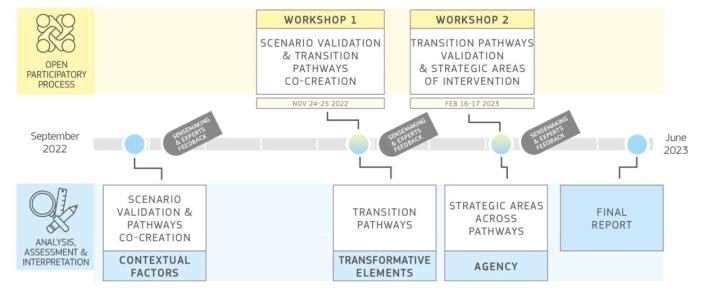 The workshops: unleashing collective wisdom
Through a series of participatory workshop involving experts, policymakers, and social partners, we refined and validated these scenarios. Together with the participants, we developed four pathways that could take us from the present to each of the scenarios using the so-called "X-curves". These X-curves helped us better reflect on which activities would have to be phased out until 2050 and which ones would have to emerge and become mainstream to foster EU sustainability.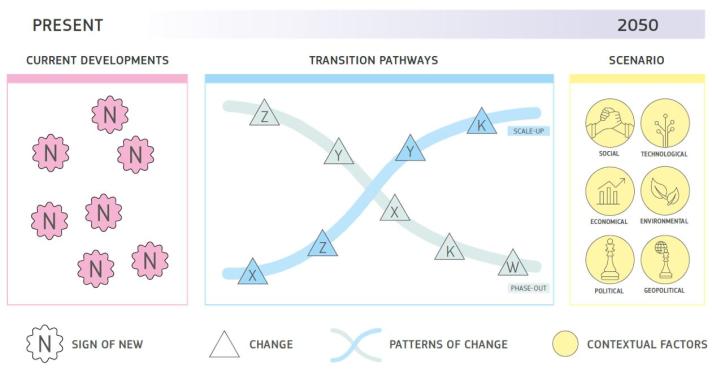 Leveraging this invaluable input from the workshops, the JRC team consolidated and structured  the results before refining and validating them in a second participatory workshop. Participants were asked to look across the four pathways and identify the cross-cutting policy domains of strategic importance. These domains house crucial choices that must be made to put the EU on a course towards a desirable sustainable future.  
The reflections in this second workshops delved into what needs to be done, by whom and when to make sure that the EU remains on track towards the desired sustainable future(s). It quickly became clear that actions across the selected domains would have to be coordinated strategically to ensure a systemic transition towards sustainability.
Above all, the present foresight study is the result of the hive mind: following the preliminary study and the two insightful workshops, we also engaged in consultations with a wide range of JRC scientists, experts as well as key players from other European Commission services to have the necessary broad overview of the implications of such recommendations.  
The findings
Inspired and informed by these wide-ranging consultations, the JRC foresight study identified a comprehensive list of critical issues, which need to be addressed to ensure successful sustainability transitions:
Wellbeing: Redefining it through the lens of quality of life beyond mere material wealth. Recognising the importance of wellbeing is crucial to overcoming resistance to change which would likely block the transition to sustainability.
Sustainable lifestyles: Broad adoption of sustainable lifestyles is a prerequisite for achieving a sustainable EU.
Public finances: Adequate public financing is necessary to enable the investments needed for sustainability.
Skills and competences: Equipping citizens with the necessary skills and competences is vital to empower them to adapt and thrive in the new world.
Democracy and governance: Ensuring the legitimacy of the decisions and efficient implementation are essential for a successful transition.
Investments for sustainability: Coordinated efforts between public and private sources are necessary to achieve the scale of investment needed for systemic change.  
International cooperation: Addressing global challenges, such as climate change, requires strong international cooperation. It is vital to secure European supply chains and tackle shared issues collectively.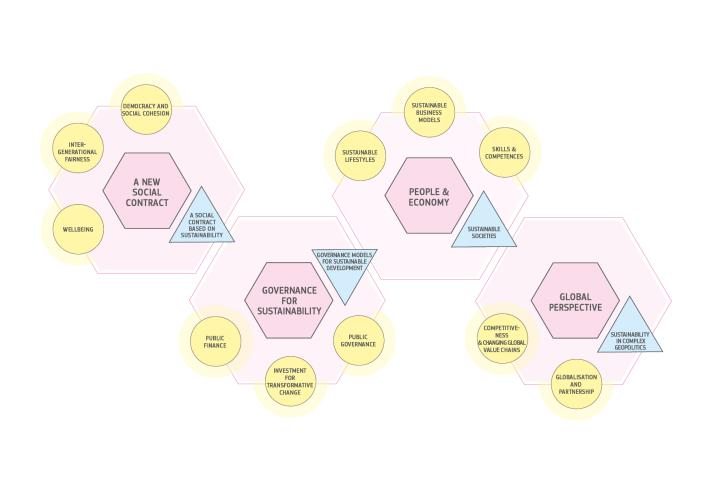 These findings have played a concrete role in informing the strategic reflection at EU level to best manage the transition towards sustainability and they are fully reflected in this year's Strategic Foresight report.  
What this report can do for you
Moreover, the wealth of knowledge provided by the study can also guide the reflection at national and regional helping the whole EU reach our common goals for clean, sustainable and climate neutral societies.  
Make sure you join the conversation on social media using the #StrategicForesight hashtag and help us build the sustainable EU we want and deserve, together!
Details
Publication date

6 July 2023

Author
EU Policy Lab tags