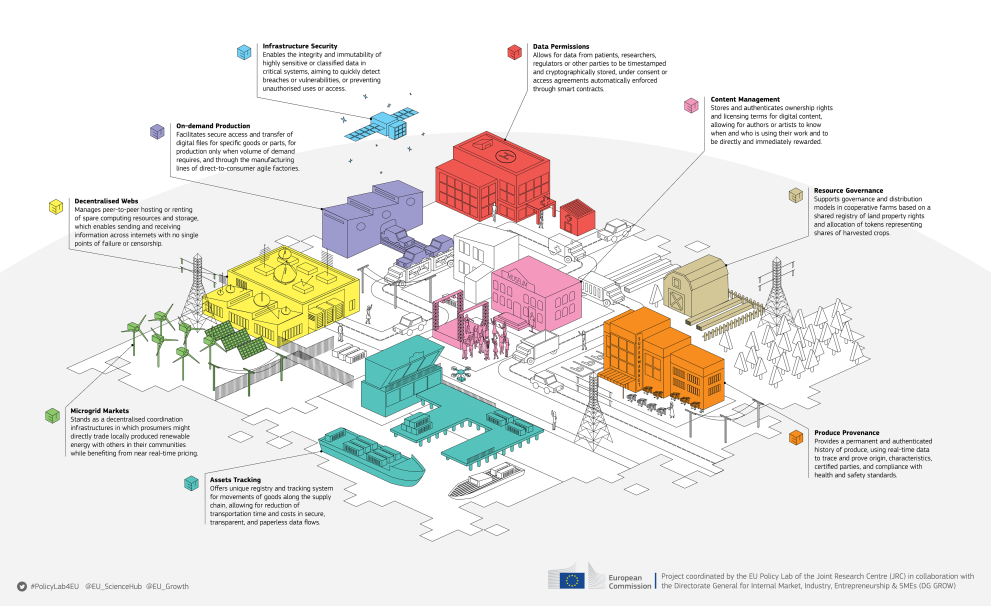 Blockchain and other Distributed Ledger Technologies (DLTs) are immutable, encrypted and timestamped databases in which data is recorded, validated and replicated across a decentralised network of nodes. In an increasingly interconnected world a vast array of opportunities could emerge through the deployment of such technologies that could enable parties who are geographically distant, or have no particular trust in each other, to record, verify and share digital or digitised assets on a peer-to-peer basis with fewer to no intermediaries.
#Blockchain4EU: Blockchain for Industrial Transformations is a forward looking exploration of existing, emerging and potential applications based on Blockchain and other DLTs for industrial / non-financial sectors. The project combined empirical Science and Technology Studies with our transdisciplinary Policy Lab toolbox, which drew simultaneously from Foresight and Horizon Scanning, Participatory, Generative and Speculative Design and Behavioural Insights.
We developed an innovative experimental approach that allowed us: first, to select and refine the sectors, topics and dimensions to be explored; second, generate ideas on how Blockchain and other DLTs could materially exist in the near future; and third, test new narratives and plausible scenarios around it. This entailed a mix of desk and qualitative research, with a series of surveys, interviews and ethnographic explorations, alongside the following three co-creation workshops with major focus on extended stakeholder engagement:
Workshop A took place on July 4 2017, with the aim of mapping multiple Blockchain present and future challenges and opportunities, especially considering their policy, economic, social, technological, legal and environmental dimensions. Read the blogpost.
Workshop B occurred on November 15-16 2017 with emphasis on the material and speculative design of near future scenarios of creation, production, distribution and use of Blockchain and other DLT applications in five sectors. Read the blogpost.
Workshop C happened on March 15 2018 centred on a broad spectrum discussion on policy strategies for digitisation of industry and businesses, with particular focus on technology adoption and SME innovation. Read the blogpost.
To learn more about the project, its methodologies, processes, results and, in particular, its intersections between evidence based research and experimental frameworks for policy advice, read our final report. In this webpage you'll find a summarized version of our main outputs.
#Blockchain4EU ran from March 2017 to May 2018. It was coordinated by the EU Policy Lab / Foresight, Behavioural Insights and Design for Policy Unit of the Joint Research Centre (JRC), in collaboration with the Innovation Policy and Investment for Growth Unit of the Directorate-General for Internal Market, Industry, Entrepreneurship & SMEs (DG GROW).
The project's final event was on May 24 2018 at the Berlaymont building, European Commission's headquarters, with the launch of the final report and an interactive exhibition of the five speculative blockchain prototypes co-created during the project. Read the blogpost on the event.
MAPPING OF BLOCKCHAIN POSSIBILITIES IN NINE INDUSTRIAL SECTORS
Blockchain and other DLTs could enable major transformations of products, processes and business models across their operational spaces. Promises of transparent, secure or decentralised ways to manage nearly all kinds of data and digital assets are being taken into consideration in an extended range of applications where it became key to move from siloed systems to shared infrastructures. To explore this sociotechnical landscape we chose nine sectors where Blockchain based applications are reaching interesting early stage development, or where existing problems present themselves as potentially primed to be tackled by Blockchain main features.
To learn more about Blockchain features and its current key challenges, read Section 2 of our Report. To learn more about Blockchain possibilities in each of the nine industrial sectors illustrated below, with examples of existent applications and the organisations behind them, read Section 3 of our Report.
INSIGHTS FOR UPTAKE OF BLOCKCHAIN BY INDUSTRY, BUSINESSES AND SMES
Blockchain and other DLTs have potential to affect large parts of current industrial landscapes. At the same time the wide range of possibilities place us in an exploratory mode looking on how the implementation and uptake of these technologies could reshape or create innovative products, services, processes or models. A number of benefits and challenges that are already visible or may arise in the near future were addressed in the #Blockchain4EU project across a set of policy, economic, social, technological, legal and environmental dimensions.
Below is a summarized version of our key insights for implementation and uptake of Blockchain and other DLTs by industry, businesses and SMEs. To learn more read Section 5 of our Report.
Blockchain is still an early-stage and experimental technology. One of the crucial choices concerns the permissionless (public), permissioned (private) and hybrid continuum, and related disputes over scalability, energy consumption, security, privacy and protection of personal and sensitive data.
Interoperable protocols should be promoted so that different Blockchain products and services don't end up closed or unable to communicate with each other, whatever the technical solutions to be developed in upcoming years. Yet, it is crucial to improve current multi-stakeholder governance processes for the development of open standards.
Blockchain systems will be complementary or integrated with legacy IT systems in many cases. Another trend concerns the possible intersection with other key digital technologies in the industrial context, such as IoT, artificial intelligence, robotics, or additive manufacturing.
Blockchain may enable efficiency gains and lowering of costs, and introduce new ways of extracting and delivering value in business and industry. They may also introduce new decentralised, collaborative, or peer-to-peer economic models, and even usher in 'token' or 'crypto' economies.
Potential scenarios of Blockchain as a 'trust machine' don't mean the total dissipation of intermediaries and / or absence of governance. Instead the discussion should focus on the concrete conditions for decentralised, horizontal and open forms of coordination between individuals, groups and companies, which may require a rethinking of traditional, vertical and hierarchical models.
Who processes, stores and owns data, how and for what purposes, are crucial questions. Close attention should be paid for instance to the quality of the data being entered, processed and stored on a blockchain, or possible incompatibilities of decentralised and cryptographic protocols in regard to privacy and personal data. Yet, Blockchain could offer alternative mechanisms to implement data protection by design or privacy by design, and / or data portability.
Organisations shouldn't develop solutions looking for problems, but instead find existing or foreseeable problems in their business and then look for possible Blockchain solutions. An in-depth analysis of opportunities and risks based on each company's business and regulatory context should be followed by an assessment of technical feasibility, and ideally come up with a use case or prototype under an exploratory mode.
SCIENCE FOR POLICY STRATEGIC RECOMMENDATIONS
The following recommendations condense Section 6 of our Report and are targeted at policy makers to help shaping options for regulatory, funding and other broader policy responses. They should ultimately assist the European Commission, other EU public authorities, and other government or public administration bodies to foresee and prepare for major positive or negative changes that may arise from potential widespread or accelerated adoptions in the short and medium term of Blockchain and other DLTs within industrial / non-financial sectors.
Supporting experimentation and piloting with simplified requirements. The Blockchain space requires multiplication of high-risk prototypes, Proofs-of-Concepts (PoCs) and pilots in diverse areas and/or sectors. This needs simplified grant or procurement procedures, coupled with real-time monitoring and evaluation.
Building upon other digitisation initiatives and programmes. It is crucial to avoid duplications or overlaps while supporting the potential integration of Blockchain with other key industrial technologies. Existing or new innovation spaces, hubs or centres could be used to run Blockchain experimentation.
Stimulating knowledge sharing and collaborations between projects. Priority should be given to free and open source models for developing research, platforms and protocols. Incentivizing sharing of results and exchange of best practices will be essential to scale up projects and maximize their impact across sectors.
Fostering interoperability and open standards with wider engagement. Open standards should continue to be fostered following a multi-stakeholder, collaborative and consensus driven process. Dangers of platform or vendor lock-ins should be minimised by inclusive processes to facilitate participation of smaller or newer players.
Promoting adequate skills and training also beyond core Blockchain spaces. Incentives to recruitment and/or development of programs should create Blockchain expertise across a diversity of areas. Actions for upskilling or digital skills training with special attention to SMEs should be further pursued.
Cultivating wider exchanges between policy and Blockchain stakeholders. Policymakers should engage directly with Blockchain companies to understand the opportunities and challenges ahead. This could be facilitated in environments such as innovation hubs and regulatory sandboxes.
Funding Blockchain interdisciplinary and problem-driven research. Funding should be geared not just to technological research, but also to policy, economic, social, legal and environmental analysis. Start with specific challenges to be addressed and not with internal issues of the technology itself.
Designing Stable Regulatory Frameworks for Better Policy Preparedness. Regulatory certainty around key issues is needed to unlock opportunities for experimentation. Concerns about over-regulation shouldn't translate into missed opportunities to shape and guide Blockchain development.
Championing Blockchain in public and governmental sectors. Blockchain could be explored by public sector organisations to tackle specific challenges in their own activities. It could not only increase demand but also legitimize and stimulate experimentation across private and commercially driven worlds.
DESIGN FICTIONS AND PROTOTYPING FOR POLICY
When prototyping is used for policy, it usually means testing of services before implementation. But there are other uses even if less tried. The creation of fictional artefacts triggers forward looking discussions of yet to be fully fledged realities. And it is a compelling way to explain how something might work and exist. This is how critical and speculative design became central in the #Blockchain4EU project, grounded on material outputs that act as fictional learning devices. Their frameworks offered us ways through which we don't predict futures as if creating maps for tomorrow, but aim instead to open up discussions on the preferred directions of what to build next.
By creating speculative prototypes on top of an emerging technology as Blockchain, we addressed broader issues and asked different questions from those who have their resources placed on functionality and commercially-driven proofs of concept, stake or others. You can find out more about this approach and the following prototypes in Section 4 of our Report.
What? Why? How?
These prototypes are designed to inform or agitate views of policy makers at multiple governance levels. But they are also meant to engage other stakeholders already involved with, potentially interested in, or working in sectors that may be impacted by Blockchain and other DLTs.
Our goal was to co-create artefacts that could materially represent in tangible and interactive ways how Blockchains and other DLTs could exist in near futures, considering five of the nine sectors illustrated above.
To generate transdisciplinary outputs, we invited lead designers to work with us through several iterative co-creation loops, alongside industry stakeholder experts, and technical, economic and social researchers.
Gigbliss
What if your hairdryer could save you money by trading energy with power grids or even other hairdryers?
This is Gigbliss, a speculative blockchain prototype in the energy sector. Gigbliss is an IoT suite that offers three models of the same hairdryer, AUTO, BALANCE and PLUS, linked to three distinct economic models of energy consumption, management and trading.
Bloodchain
What if you could trust a drone, to help you collect, transport or donate blood through an encrypted system?
This is Bloodchain, a speculative blockchain prototype in the transports and logistics sector. Bloodchain is an assets management system dealing with multiple supply and demand points for collection and transport of blood and other sensitive biological materials.
Gossip Chain
What if you could register, validate and use gossip as valuable information in your own neighbourhood?
This is Gossip Chain, a speculative blockchain prototype in the creative industries sector. Gossip Chain allows anyone to submit rumours to a localised blockchain and then combines people's reputations and prediction markets to assess and register the information's value and reliability.
Vantage Point
What if you could access all information you need before repairing something like a second hand scooter?
This is Vantage Point, a speculative blockchain prototype in the advanced manufacturing sector. Vantage Point is a platform tackling data sharing, interoperability and integrity in manufacturing by storing products' digital twins and providing distinct information based on specific needs.
Care AI
What if you could anonymize your personal health data and share it in exchange for professional healthcare?
This is Care AI, a speculative blockchain prototype in the Health sector. Care AI is a service providing access to basic healthcare in exchange of anonymised personal health data, later connected through smart contracts to a data marketplace for third party public and private entities.
Details
Publication date

1 June 2018

Author
EU Policy Lab tags